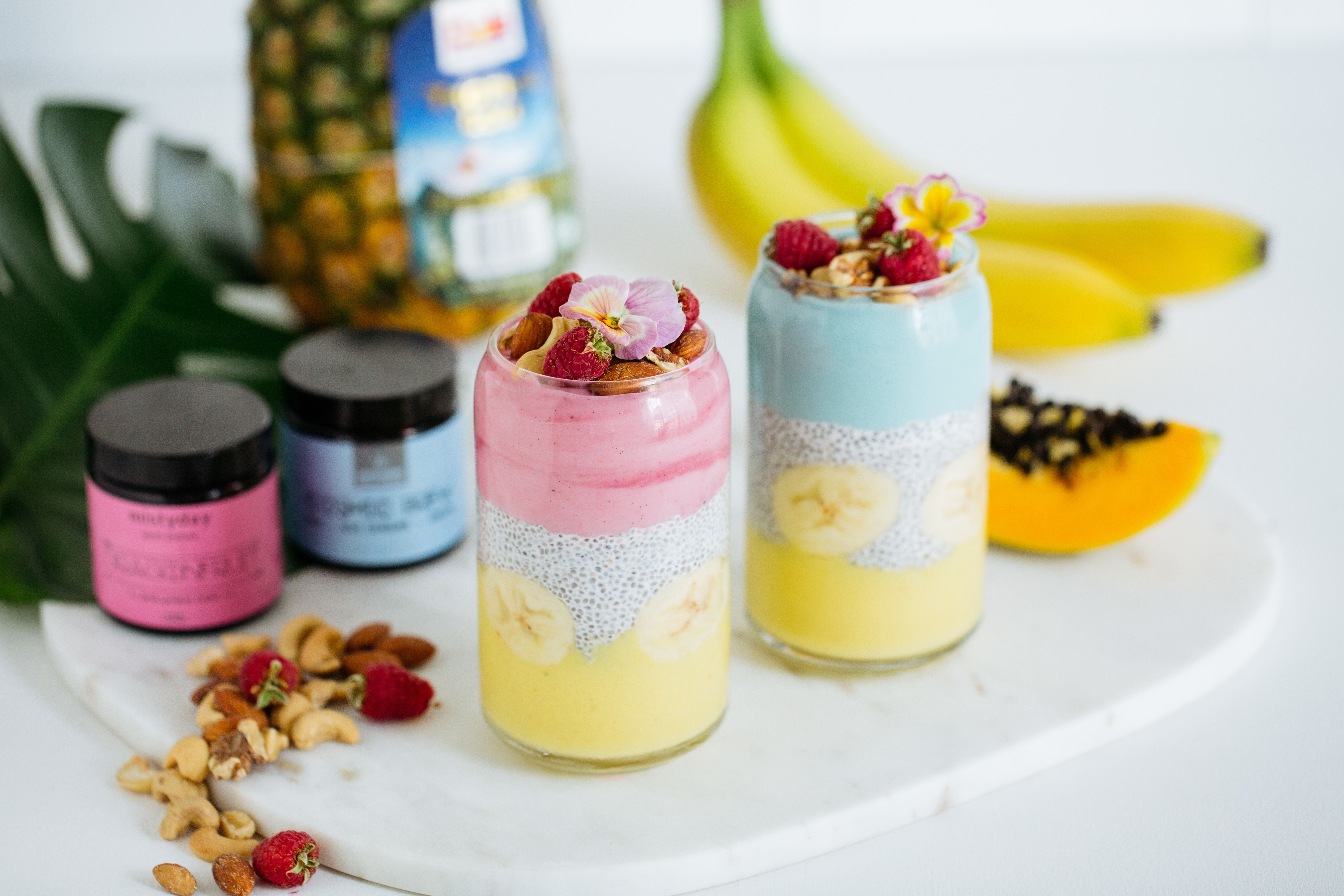 Smoothie Chia Pudding
Ingredients
1 Dole Fresh Pineapple – Cored/Cubed
1 Dole Fresh Paw Paw – Cubed
1 Banana
1 Banana - Sliced
2 Tsp. Misty Day Plant Potions – Cosmic Brew
2 Tsp. Misty Day Plant Potions – Moxie Brew
2 Cup Coconut Water
½ Cup Natural Yoghurt
½ Cup Chia Seeds
1 Tsp. Vanilla Essence
1 Tin Coconut Milk
Toppings
Fresh Raspberries
Roasted Nuts
Edible Flowers
Serves
4
Method
In bowl mix together chia seeds, coconut milk & vanilla essence. Mix until combined.
Place in fridge and leave to set until a gelatinous texture is achieved.
In blender mix together Pineapple, Paw Paw, Banana, Coconut Water & Yoghurt. Blend until smooth. Separate mix between 3 jugs.
Add Cosmic Brew to 1/3 of mix mixing through until vibrant blue colour is achieved. Add Moxie Brew into 2/3 of mix until vibrant pink colour is achieved. Leave the last third of mixture as natural yellow colour.
To serve layer evenly between 4 jars. Start with 1 layer of yellow smoothie, then place in freezer to set slightly. Remove from freezer.
Carefully place sliced banana around side of the jars pressing to the side so they stick. Spoon chia pudding into jars pressing gently onto to the bananas to hold them in place.
Top with last layer of coloured smoothie (pink or blue) and garnish with a handful of roasted nuts, fresh raspberries & edible flowers.
Serve chilled.
Per Serve