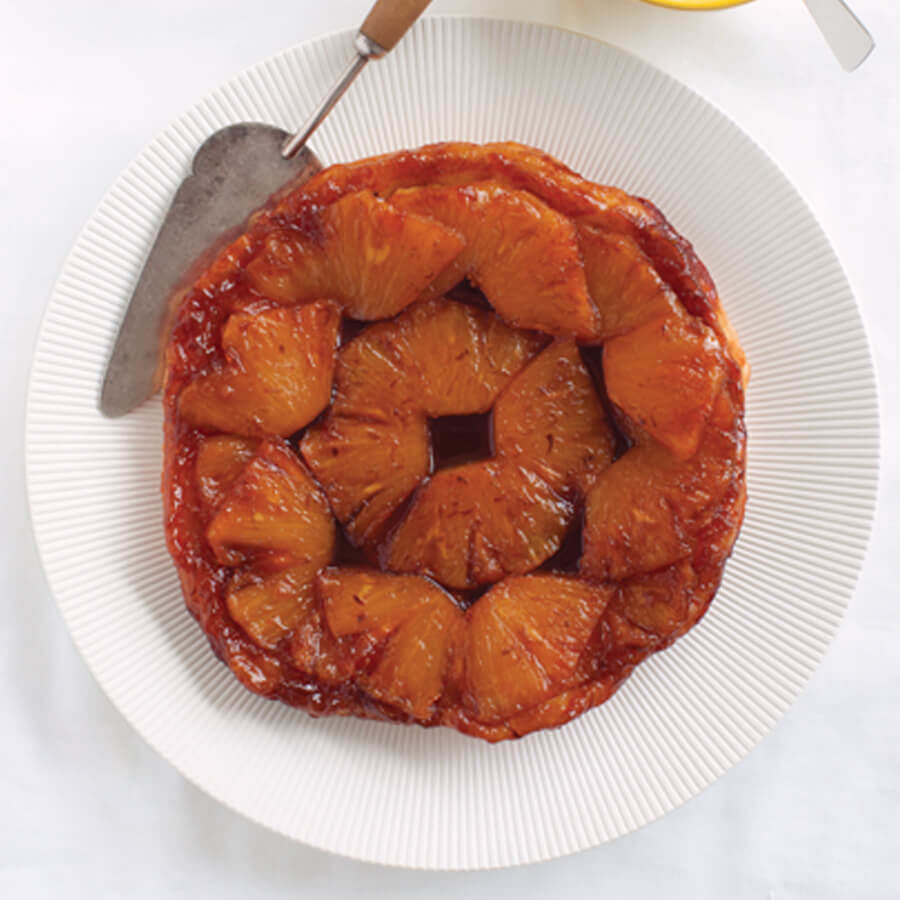 Pineapple Tarte Tatin
Easier than it looks, this tart is worth the effort. Impress your family and friends and serve after dinner any time of year.
Ingredients
1 sheet puff pastry
30g butter
Finely grated zest of 1 lime
½ cup brown sugar
1 ripe pineapple, skin cut off
200g mascarpone or crème fraîche
1-2 tablespoons brown sugar
¼ teaspoon ground cloves
Serves
4-6
Method
Heat butter, lime zest and sugar in a fry pan (with an oven proof handle) over low to medium heat. Bring to a bubble and cook for a few minutes until caramel has thickened. Take pan off the heat and allow the caramel to cool.
Cut pineapple in half lengthways, then slice 1cm thick. Cut out the tough inner core of the pineapple pieces. In a separate pan, fry the pieces of pineapple in a little knob of butter for 1-2 minutes on each side until golden. Arrange pineapple pieces on top of the caramel, working in a circular pattern. Put the pan in the fridge to cool.
Preheat oven to 180degC. Place puff pastry sheet on top of the pineapple and push down around the edges so that the filling is tightly encased. Bake in the oven for 35-40 minutes until the pastry is puffed and golden brown. Allow to stand for 15 minutes (for pan to cool) before carefully covering and flipping out onto a plate.
Mix the mascarpone, brown sugar and cloves together and serve with the tarte tatin.
Per Serve
Energy: 1391 kJ