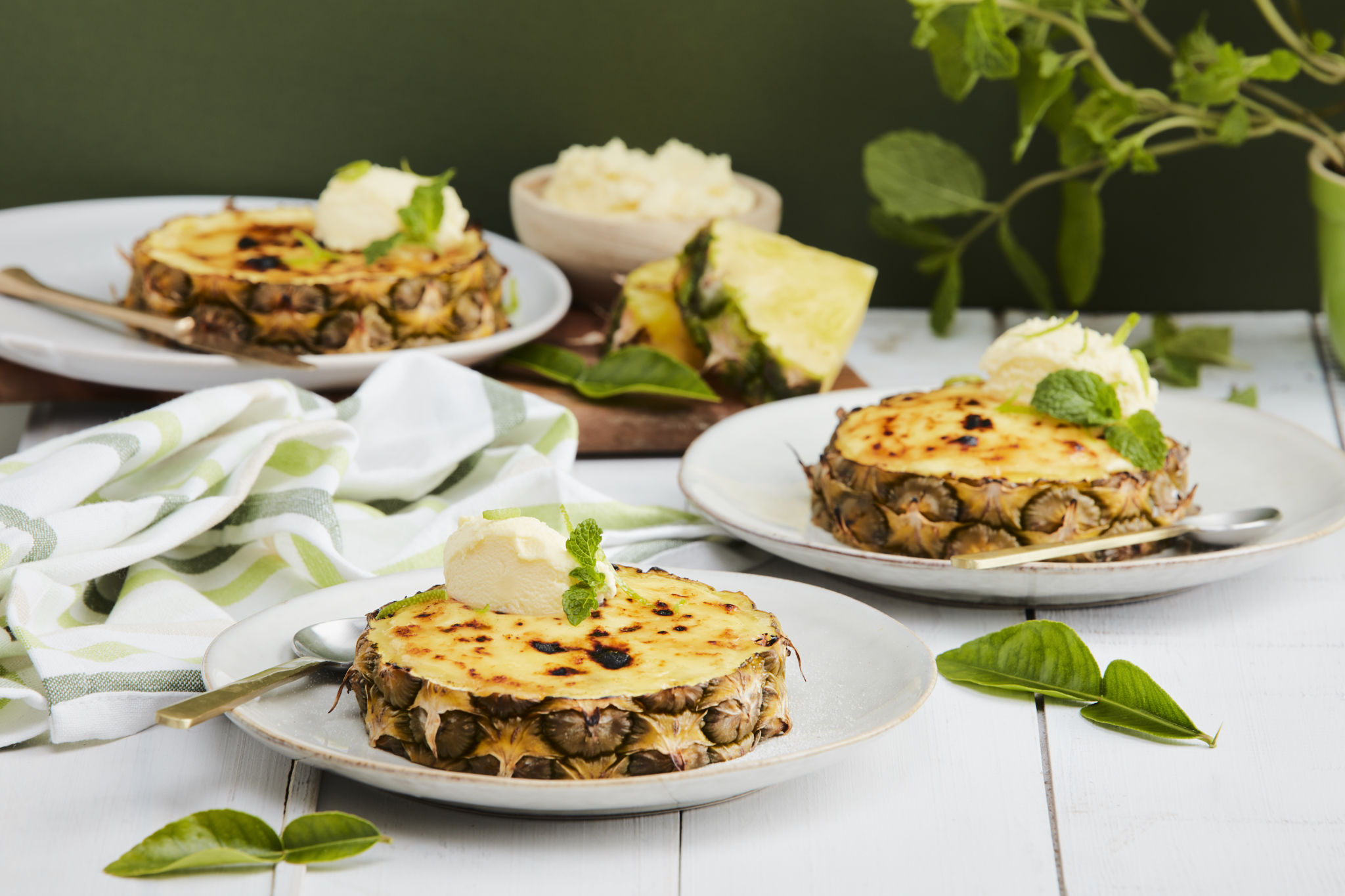 Pineapple & Lime Crème Brûlée
Ingredients
1 large Dole pineapple
1 1/2 cups cream
1/2 cup coconut cream
1 tsp vanilla bean paste
2 makrut lime leaves
5 egg yolks
1/4 cup caster sugar + 1/4 cup caster sugar (approx.) to caramelise
1/2 cup mascarpone
Mint leaves and lime zest to garnish
Serves
4
Method
Preheat oven to 180*C and line an oven tray with baking paper.
Remove ends and cut four thick slices from the pineapple. Carefully scoop out most of the flesh from within each slice, leaving a ring around the skin edge and a base to pour your custard into. Make sure you don't break through that base at all! Place on oven tray. Take the flesh you scooped out (minus the hard, inner core), and puree using a stick blender or food processor.
Place cream, coconut cream, vanilla and lime leaves in a saucepan and gently heat. Remove from heat before it comes to the boil.
Beat egg yolks and first measure of sugar together in a heatproof bowl until thick and creamy. Gradually whisk in the hot cream mixture. Return the mix to the saucepan.
Cook over a low heat, stirring continuously until the custard thickens enough to coat the back of a spoon. Strain through a sieve.
Mix 1/4 cup of the pureed pineapple into your custard and divide the mix between the pineapple slices. Place in oven for about 20 minutes until custard is set. Refrigerate until ready to serve.
Before serving, sprinkle 1-2 teaspoons of sugar over each, ensuring you get an even covering. Using a kitchen blowtorch, caramelise the sugar. (TIP: hold the flame just above the sugar keep moving it round until the sugar is hard and "crackable"!)
Garnish with a dollop of mascarpone, lime zest and mint leaves and serve.
Per Serve