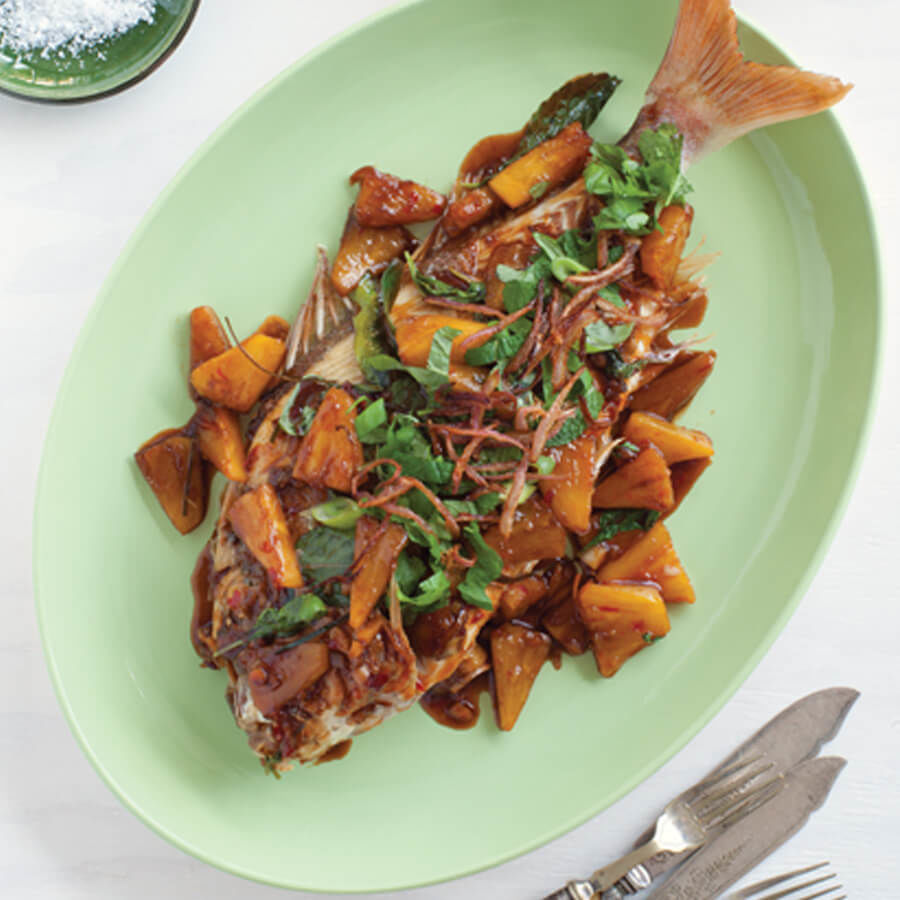 Pineapple Glazed Thai-style Fish
Wow, this is a spectacular dish when using a whole fish but you can make the sauce and use it on fillets if you prefer. The lemon grass, lime and crunchy fresh pineapple match perfectly with fish so do give it a try.
Ingredients
Vegetable oil for shallow frying
1 medium whole snapper, scaled and gutted
¼ cup plain flour
3 shallots, sliced
2 tablespoons vegetable oil
2 cloves garlic, minced
½ inch ginger, julienned
½ stalk lemongrass, finely chopped
1 tablespoon Thai red curry paste
2 kaffir lime leaves, finely shredded
1-2 red chillies, chopped, optional
¼ pineapple, skin cut off, chopped
Juice of 3 limes
¼ cup sweet chilli sauce
1 teaspoon fish sauce
Light soya sauce to taste
Fresh mint, coriander, and basil, roughly chopped
Serves
4
Method
Pat fish dry with paper towels and dust both sides with flour. Heat 2 inches oil in a large fry pan or wok that will fit the fish. The oil temperature is ready for frying when a bread cube fries golden in under a minute. Carefully slide fish into the hot oil. Fry for 5-7 minutes on both sides, or until cooked through. Use tongs to very carefully turn the fish over. Drain fried fish on paper towels. Add sliced shallots to hot oil and fry until dark golden brown and crispy, drain on paper towels.
In a separate pan heat 2 tbs oil. Add garlic, ginger, lemongrass, curry paste, lime leaves, and chilli if using. Stir fry for a few minutes, and then add pineapple, lime juice and sweet chilli sauce, cook until just hot through. Season with fish sauce and soya sauce to taste.
To serve, place fish on a large platter. Pour over hot sauce, sprinkle over plenty of chopped herbs and the crispy shallots. Garnish with more fresh chilli if desired. Serve immediately.
Per Serve