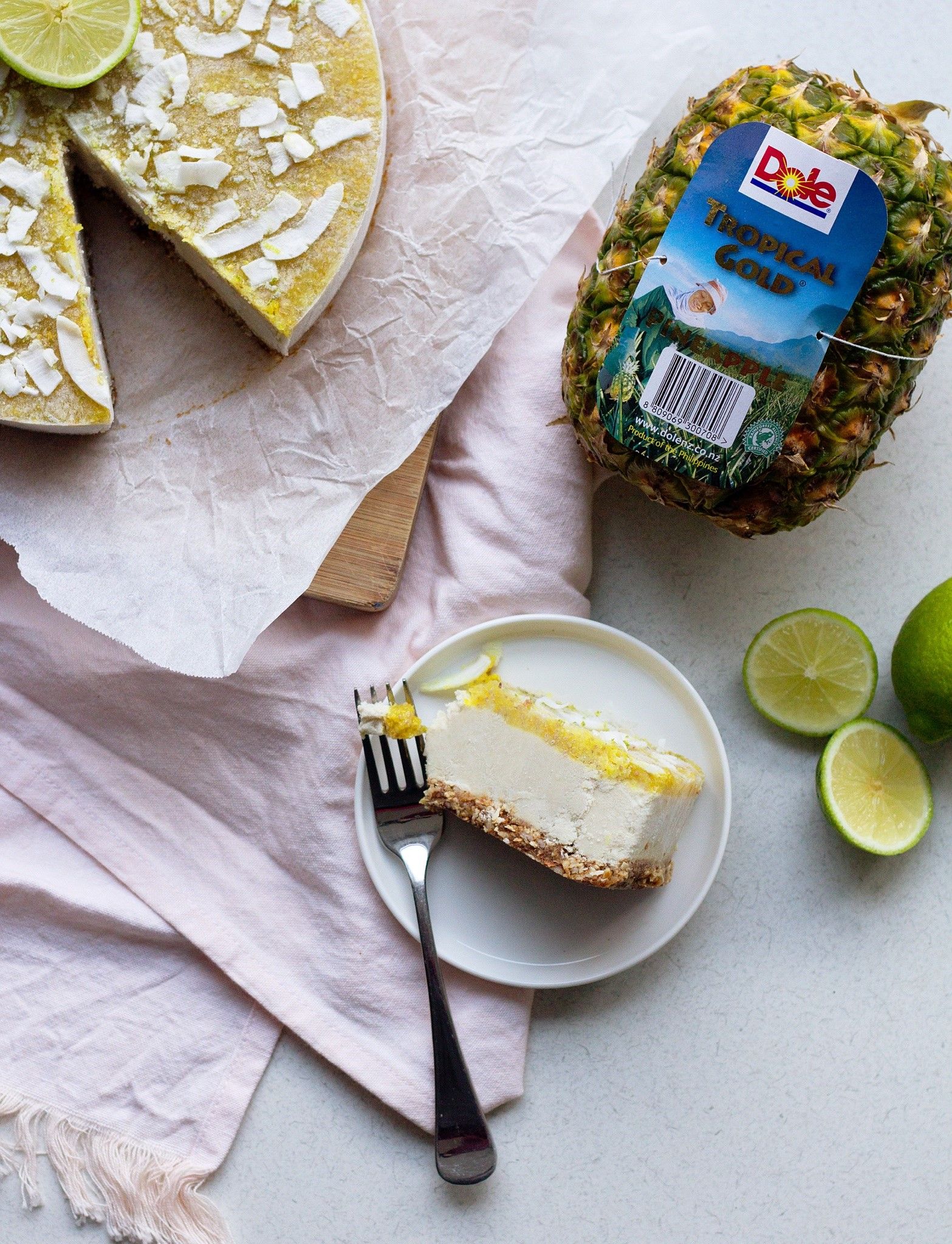 Pineapple, coconut and lime cheesecake
A delicious vegan recipe!
Ingredients
Almond date base:
3/4 cup almonds
1/3 cup sunflower seeds
1 cup dates
1/2 teaspoon salt
1/3 cup coconut threads
Coconut cashew filling:
1 cup cashews
1 cup canned coconut cream
1/2 Dole pineapple, blended into puree (around 1 cup)
1 tablespoon fresh lime juice
1 tablespoon pure maple syrup

Pineapple chia jam topping:
1/2 Dole pineapple, blended into puree (around 1 cup)
3 tablespoons white chia seeds
1/4 cup water
1 teaspoon fresh lime juice
1/4 teaspoon tumeric (optional, for colour)
1/4 cup coconut flakes
Zest of 1 lime

Fresh lime slices for garnish
Serves
12+
Method
Preparation.
1. Place can of coconut cream in the fridge for at least 3 hours, preferably overnight. This allows for the cream to separate from the liquids and harden. When measuring the coconut cream, remove only the hardened coconut cream from the top of the can, careful not to include any of the coconut liquid. You can save this liquid and use it in smoothies.

2. Quickly soak your cashews by placing in a bowl and covering with boiling water. Allow to soak for at least 1 hour, preferably for around 2-3 hours, then drain excess liquid.

3. Soak dates by placing in a bowl and covering with boiling water. Allow to soak for 30 minutes - 1 hour, then drain excess liquid.

4. Prepare pineapple by cutting off the skin of one whole Dole pineapple and dicing in to chunks. Place pineapple in blender and process until it is a puree. You should end up with around 2 cups of blended pineapple puree.

5. Line the bottom of a 24cm spring form cake tin with baking paper and set aside.
Method
1. In a food processor, combine almonds, sunflower seeds, soaked dates, coconut threads and salt until a sticky dough is formed.

2. Press mixture in to the bottom of your spring form cake tin and place in the freezer while you make the filling.

3. In a high speed food processor or blender, combine soaked cashews, coconut cream, pineapple puree, lime juice and maple syrup. Blend until mixture is smooth and silky.

4. Remove base from freezer and pour over filling mixture. Tap the tin on the bench to even out the surface of the filling and remove any air bubbles. Place back in freezer and allow to set for 1-2 hours.

5. In a small saucepan, combine remaining 1 cup of pineapple puree, chia seeds, water, lime juice and tumeric and cook over a low heat, stirring until chia seeds start to gel and mixture begins to thicken. Transfer mixture into a bowl and allow to cook completely.

6. Remove cheesecake from freezer and spread the chia jam evenly across the top. Sprinkle with coconut flakes and lime zest and place back in freezer to set.

Before serving, allow cheesecake to sit at room temperature for around 30 minutes. Cut with a sharp, hot knife. Garnish with fresh lime slices and serve with fresh tropical fruit.
Per Serve