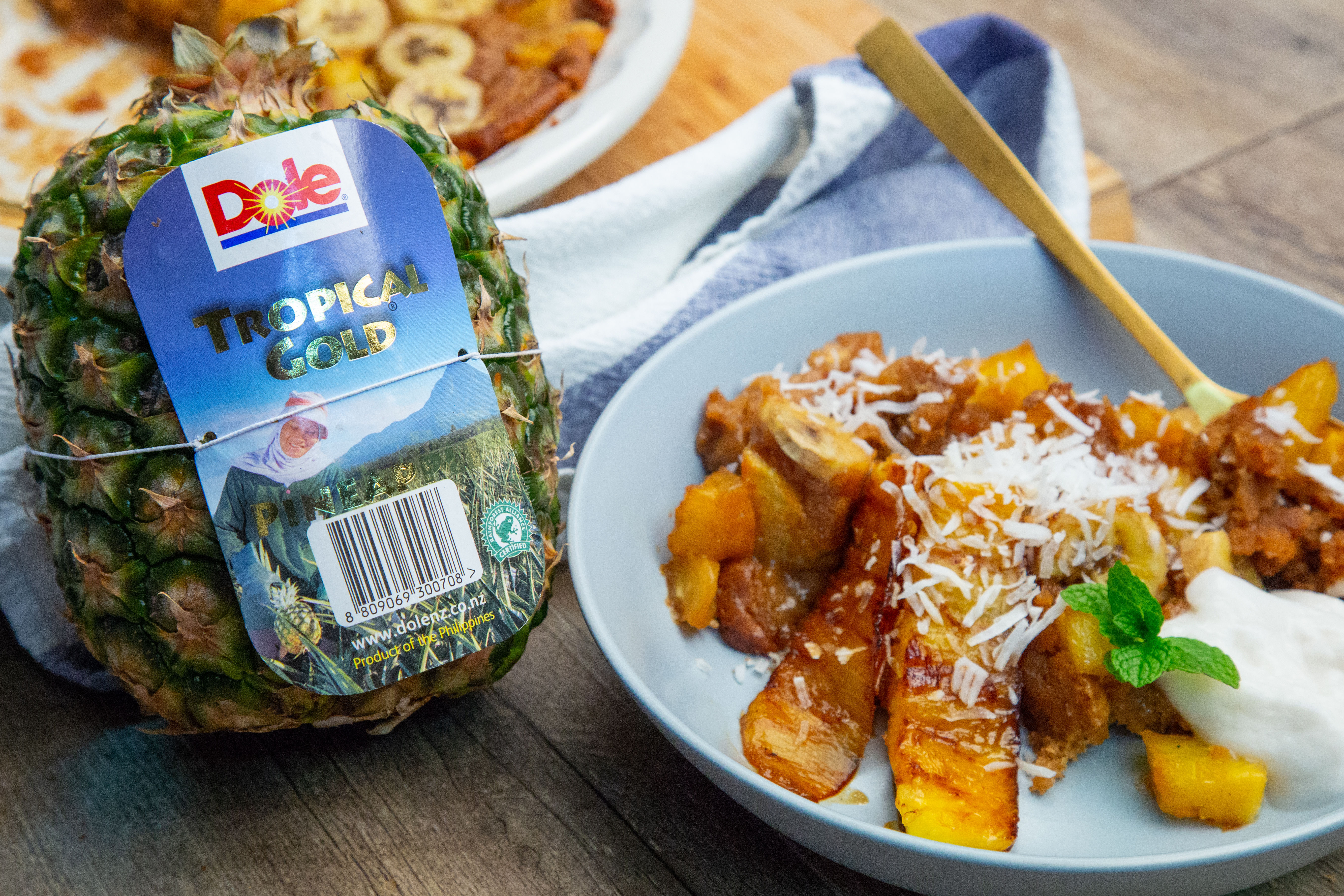 Pineapple, Banana and Coconut Cobbler
The aroma of Pineapple and Banana in the kitchen makes you feel tropical! Perfect dessert to finish off the comforting winter dinner. This is a dairy free, vegan-friendly version.
Ingredients
4 tablespoons Extra Virgin Coconut oil
1 cup self-rising flour
3/4 cup + ½ cup Coconut Sugar
1 teaspoon cinnamon
1 pottle Coconut Yoghurt
1 fresh pineapple
1 banana
¼ cup Maple syrup
A handful shredded coconut
Serves
Method
1. Preheat oven to 180 degrees Celsius.
2. Top and tail the pineapple and cut in quarters length way. Discard the outer peel and the core. Cut 1 quarter into wedges and set aside.
3. Cut the remaining pineapple into small bitesize chunks.
4. In a baking dish, place coconut oil and melt in the oven.
5. While the coconut oil is in the oven, mix ¾ cup coconut sugar, coconut yoghurt, cinnamon and flour. The mixture should be loose enough to pour. If your mixture is too stiff, add some pineapple juice(from cutting the pineapple) or/and water to loosen.
6. Pour the flour mixture over the hot melted coconut oil.
7. In another bowl, toss pineapple chunks with coconut sugar, then drop into the batter with a spoon.
8. Sprinkle sliced bananas and bake for 30-40 minutes until cooked and golden.
9. While the cobbler is in oven, heat a little coconut oil in a grill pan or a frying pan. Brush Pineapple wedges with maple syrup and cook until the pineapple is warmed through and golden. Set aside.
10. Serve the hot cobbler with grilled pineapple wedges, sprinkles of shredded coconut and more coconut yoghurt.
Per Serve