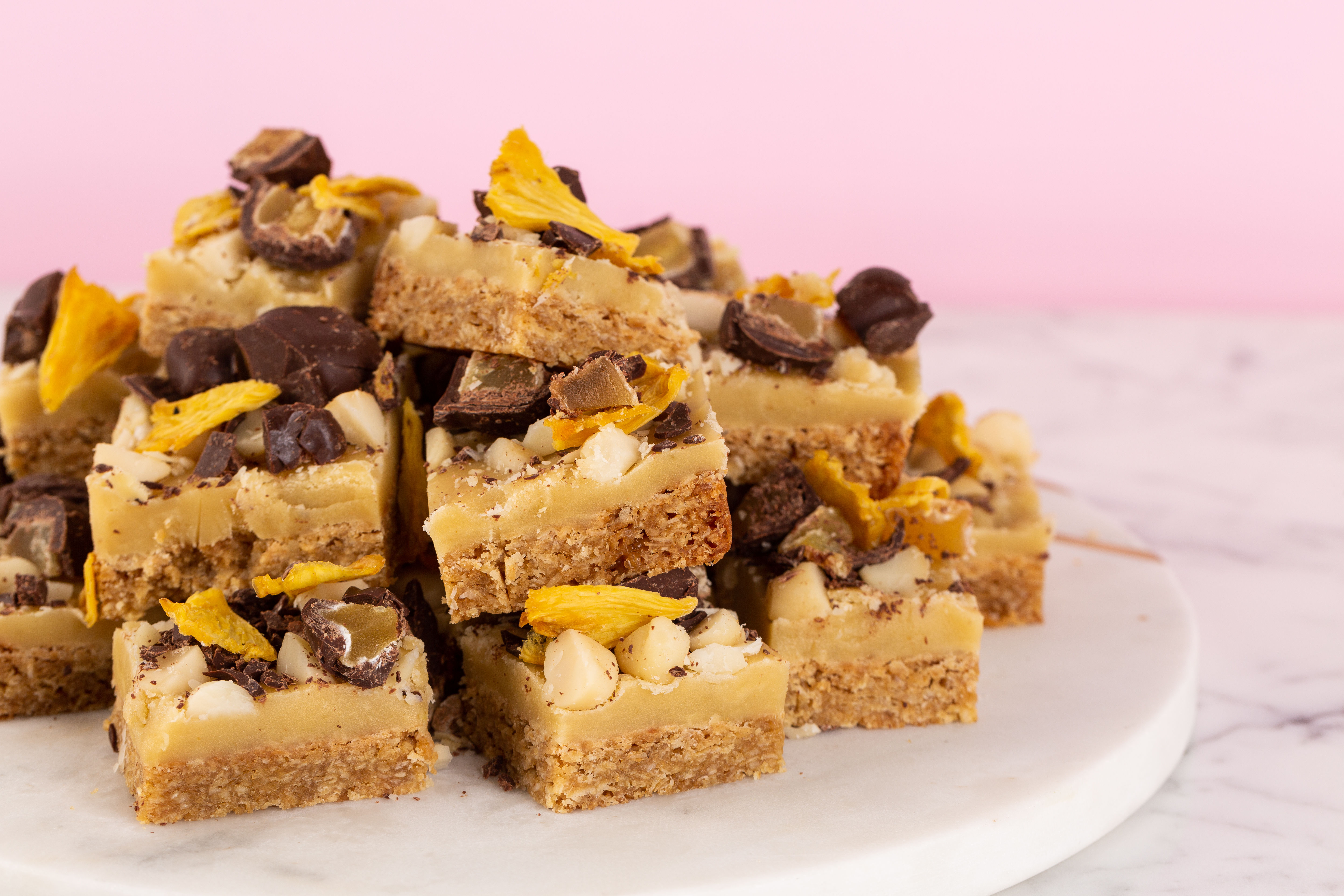 Island Ginger Crunch
Recipe from TVNZ 2's The Great Kiwi Bake Off
Ingredients
Base:
150g butter
2 tbsp golden syrup
¾ cup soft brown sugar, firmly packed
1 tsp finely grated Dole ginger
1½ cups instant oats
¾ cup desiccated coconut
1 cup self-raising flour
Ginger topping:
100g butter
3 tbsp golden syrup
2 cups icing sugar, sifted
1 tbsp finely grated Dole ginger
2 tsp ground ginger
To decorate:
¾ cup macadamia nuts, roughly chopped
150g Donovan's Hokey Pokey Clusters, roughly chopped (and/or Donovan's Chocolate Ginger Pieces)
Oven dried pineapple (recipe below)
Serves
28
Method
1. Preheat the oven to 180°C. Line a 20 x 30cm slice tin with baking paper.
2. Place butter, golden syrup and brown sugar in a large saucepan set over a low heat. Stir until melted together then remove from the heat.
3. Add ginger, oats, coconut and flour and stir to thoroughly combine. Firmly and evenly press mixture into the base of the prepared tin. Bake for 15-20 minutes or until golden brown all over.
4. Meanwhile, make the topping by combining all ingredients in a saucepan over a low heat until melted. Stir well until smooth. Immediately, while the mixture is still hot, pour and spread over the warm base. Sprinkle with chopped macadamia nuts. Set aside to cool.
5. When completely cold, cut into squares and decorate with a scattering of Hokey Pokey Clusters and or Chocolate Ginger Pieces.
Oven dried pineapple:
1/3 Dole pineapple, peeled and cored.
Method
Preheat oven to 100°C. Finely slice pineapple and then cut slices into wedges. Place wedges onto paper towel to drain for a few minutes. Transfer pineapple to a wire rack. Bake for 2 hours, turning once during drying time, or until semi-dried. Remove to cool. Use to decorate the Island Ginger Crunch. Store in an airtight container.
Per Serve