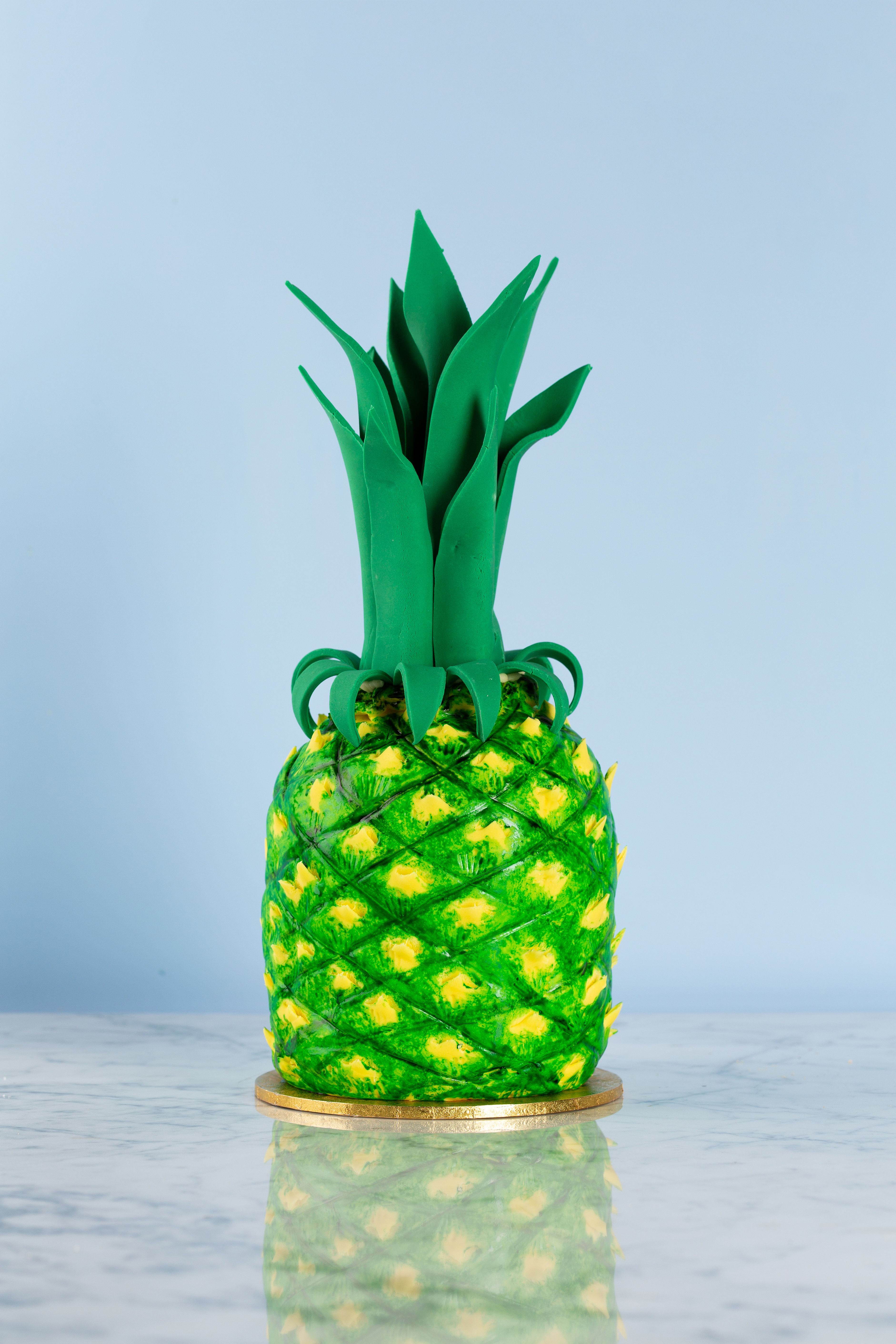 Dole Pineapple Illusion Cake
Inspired by TVNZ 2's The Great Kiwi Bake Off.
Ingredients
Pineapple curd:
½ fresh Dole pineapple, trimmed, cored
1/3 cup caster sugar
1 egg and 2 egg yolks, lightly beaten
2 tbsp cornflour
small pinch of salt
100g butter, cubed
Pineapple coconut cakes:
300g butter
1½ cups caster sugar
6 eggs
1½ cups standard flour, sifted
1½ tsp baking powder, sifted
2¼ cups fine desiccated coconut
Reserved Dole pineapple pulp (reserved from making the pineapple curd)
Yellow buttercream icing:
100g butter, softened
2 cups icing sugar, sifted
1-2 tbsp lemon juice
Yellow food colouring
To decorate:
750g yellow fondant icing
750g green fondant icing
Green food colouring, for painting
Serves
12+
Method
1. First make the pineapple curd. Puree the pineapple in a blender. Strain puree through a sieve, pressing well to remove the liquid (you need exactly 1 cup pineapple juice). Reserve the pureed pulp to make the cakes. In a medium saucepan, whisk together the pineapple juice, sugar, egg and yolks, and cornflour until smooth. Place pan over medium heat and whisk continuously for approx. 5 minutes until the mixture thickens (do not let it boil). Remove from heat and whisk in the butter until melted. Sieve and transfer to a bowl to cool completely. The curd can be made in advance and stored for up to a week in a sealed glass jar in the fridge.
2. To make the pineapple coconut cakes, preheat oven to 160°C. Grease three 16cm cake tins and line bases with baking paper. Place butter and sugar in a bowl and beat until pale and creamy. Add in eggs, one at a time, beating well between additions. Stir in flour, baking powder and coconut. Stir in the reserved pineapple puree. Divide mixture between prepared cake tins, spreading evenly. Bake for 55-60 minutes or until a skewer inserted in the centre comes out clean. Leave cakes to cool in the cake tins and set on a wire rack.
3. To make the buttercream icing, place butter in a bowl and beat with an electric mixer until pale and creamy. Beat in icing sugar, lemon juice and hot milk until the mixture forms a smooth icing. Add 1-2 drops of yellow food colouring at a time and beat well to incorporate until the desired golden pineapple colour is reached.
4. Carve and stack the cakes. Remove all the cakes from the tins. Use a large serrated knife to level one cake, leaving two cakes with rounded tops. Carve the two whole cakes to round the tops, which will form the shape of a pineapple. Shave off the browned edges from the sides of each cake as you carve. Cut each cake in half horizontally so you have 6 layers.
5. Place one layer, rounded-side down, onto a cake board or small plate – use some buttercream to hold it in place. Stack the cakes by spreading a thin layer of pineapple curd on top of the first cake layer. Place a second cake layer on top. Continue this process until all six cake layers are stacked and filled with pineapple curd. The second rounded cake layer should be on top, so that a pineapple shape is created. Chill for 20 minutes.
6. Spread a very thin coating of yellow buttercream icing all over the surface of the cake (this is called the crumb coat, so don't worry if crumbs mix with the icing at this stage). Chill cake for 20 minutes. Now spread with another thicker layer of buttercream icing, which will be smooth and clean of crumbs this time. Chill again for 20-30 minutes.
7. Measure the circumference and the height of the pineapple cake. Dust a bench top with a little cornflour. Use a rolling pin dusted with a little cornflour to roll out the yellow fondant into a sheet that is just a little bigger than the cake measurements. Wrap the fondant around the cake, smooth it onto the cake to fit neatly and gather it at the top. Cut away any excess.
8. Now add texture to the fondant covering so that it resembles a real pineapple. Use a decorating tool or blunt end of a skewer to press a lattice pattern all over the surface of the fondant. Use a cake decorating tool or small cake fork to press a pattern into the bottom of each lattice diamond shape. Use very fine scissors to snip into the top of each lattice diamond (to form the little spikes that pineapple skin has). Use green food colouring to paint the lattice diamonds in a dabbing motion to give depth and texture and replicate real pineapple skin.
9. Create the pineapple leaves (best made the day before so they have time to dry out and set firmly). On a workbench lightly dusted with cornflour, roll out green fondant icing until 3mm thick. Use a sharp paring knife to cut out spikey leaf shapes of different lengths. You will need 5 taller leaves, 5 medium length leaves, and 10 very small leaves (this allows a few extras in case of breakages). Fold the tall and medium leaves in half and prop up against a large rolling pin for example, so that they set in a leaf shape. Lie the 10 smaller leaves around a small rolling pin to dry so that they form curls. Set aside in a dry place (a hot water cupboard is perfect) until firmly set.
10. To arrange the crown of leaves, press the larger leaves into the top of the pineapple cake, in a circle. To give the leaves some support, take a leftover ball of green fondant and press it inside the circle of leaves. Use buttercream icing as glue to hold the leaves in place. Attach medium-sized leaves in a circle around the outside of the big leaves, sticking them on with buttercream. Next attach the smaller curled leaves in a crown around the base.
Per Serve