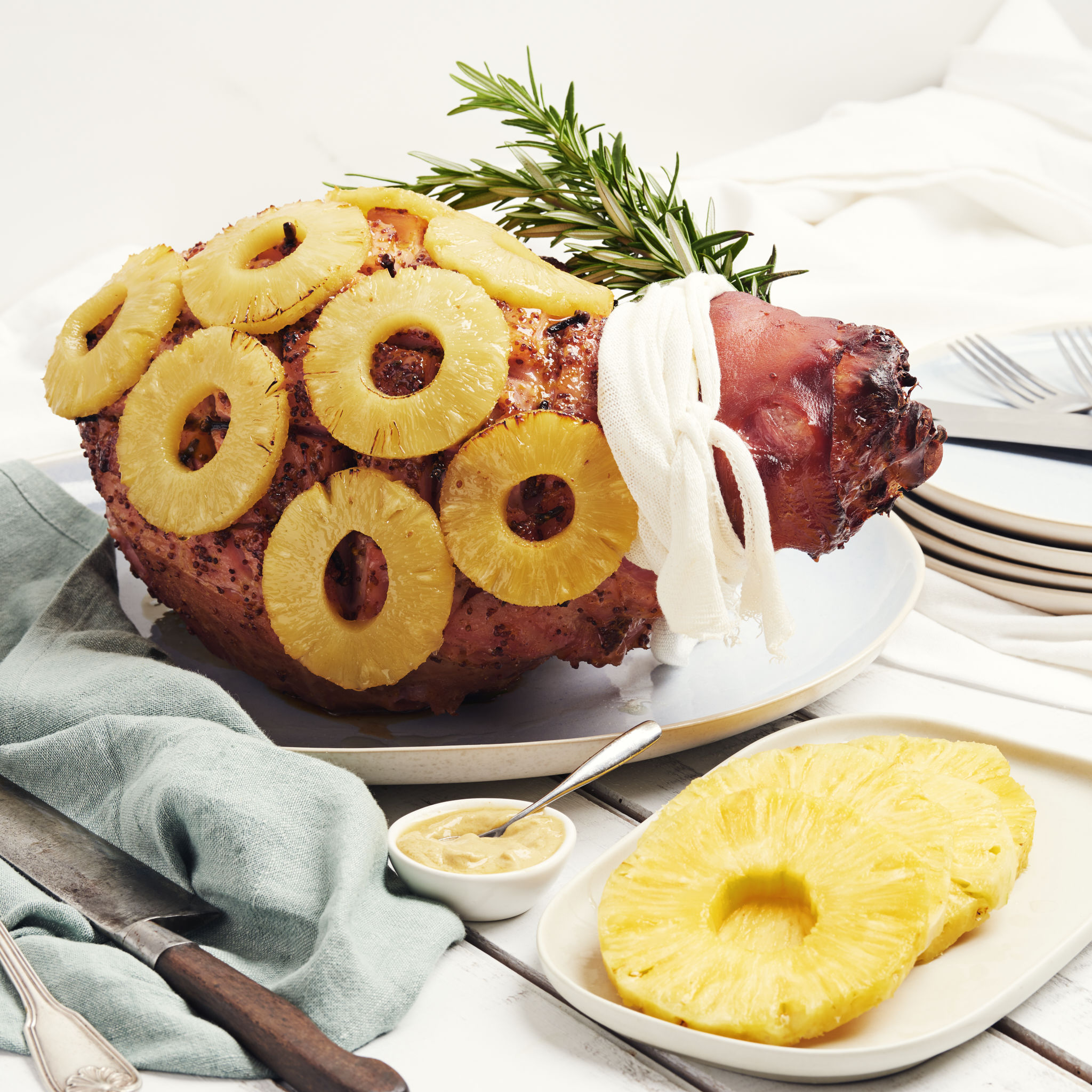 Dole Christmas Ham
Time to make: 15 minutes prep + 1hr 15 minutes cooking time
Ingredients
1 leg of ham, cooked on the bone (approx 9kg)
1 cup mango jam
4 Tbsp honey
4 Tbsp wholegrain mustard
1 x 432g tin Dole pineapple slices in juice
2 Tbsp whole cloves (approx.)
4-5 rosemary sprigs to serve
Dijon mustard to serve
Serves
40+
Method
1. Preheat oven to 150*C (130*C fan forced)

2. Remove the skin from the ham by first slicing the skin around the hock with a sharp knife. Then gently ease it away from the layer of fat with your fingers. With the same knife, score the surface of the ham with shallow diagonal cuts, 2-3cm apart. Repeat in the opposite direction, making a diamond-shaped pattern across the ham. Place a clove at the intersection of each cut.

3. For the glaze, mix the jam, honey, mustard and juice from the pineapple tin in a bowl. Using a pastry brush or just with your hands, spread half the glaze over the scored surface of the ham.

4. Place the ham in a large oven dish. Cook for 30 minutes until golden and warmed through. Layer the pineapple slices over the ham (secure with toothpicks if needed). Baste ham with remaining glaze, then cook for a further 30-45 minutes until ham is browned.
5. Transfer ham to a serving dish. Wrap some thin white muslin around the hock and garnish with rosemary sprigs. Serve with Dijon mustard and your favourite trimmings.
Per Serve