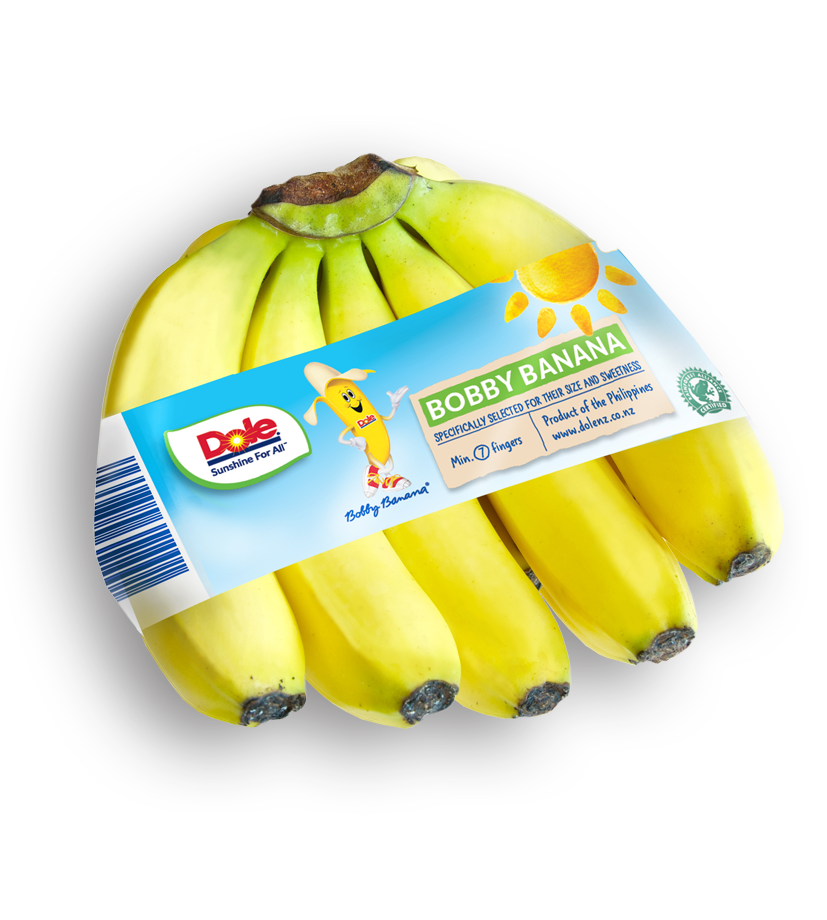 Cute and delicious, Bobby Bananas are specifically selected for their size and sweetness. Dole Bobby® Bananas grow at the lower end of the stem - while they are smaller and sweeter, they still contain all the natural goodness of regular bananas. Children especially love their small size and sweet taste, making them perfect for the school lunch box.
New, more sustainable packaging
Look out for Bobby Banana's new packaging which is now in a smaller tape that will reduce approximately 16 tonnes of plastic from landfill each year. You can recycle your Bobby Banana tapes along with other soft plastic waste such as bread bags, pasta and rice bags, at Soft Plastics Recycling Scheme drop off points, where they are collected and provided to Future Post, which recycles the plastics into fence posts, vegetable garden frames, and parking bumpers. This benefits Kiwi organisations such as our partner Oke Charity, which provides South Auckland primary schools with sustainable fruit and vegetable gardens.
Recipes
The humble banana is a fruit we tend to take for granted. So convenient and healthy, it makes the perfect snack at home, school, work, or on the run.
Nutrition
Bananas are without a doubt one of the tastiest, healthiest convenience foods that are available all year round. They are an excellent source of carbohydrate, the preferred fuel for muscle activity. The riper the banana is, the easier it is to digest and access this carbohydrate.